submitted by Deena

Ladies and gentleman, for your ridicule and general amusement, I give you...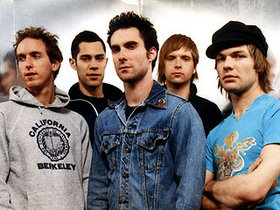 I was listening to pre-Maroon 5 in junior high, back when they were a garage pop band called Kara's Flowers. Their pop sensibilities haven't changed, but they did grow up a bit. Although I don't feel their sophomore effort, It Won't Be Soon Before Long, was as good as Songs About Jane, there is still something I find innately attractive about their tunes, whether it's the mild funk influences or the pillow-talk lyrics...yeah, probably the pillow talk lyrics.




Erasure
Although they've had some huge U.S. hits like "A Little Respect" and "Chains of Love," nobody seems to remember this band from the 80s, let alone the fact that they're still together and making music. While the tunes that made them famous are, in a way, disposable synth-pop tunes, their albums contain a range of songs, both catchy and introspective. And as a singer, I appreciate the refined quality and range of Andy Bell's vocals.
AC/DC

For some reason I'm always ashamed at my fondness for AC/DC, though they certainly have enough credibility, having been inducted into the Rock and Roll Hall of Fame in 2003 and named 4th and 7th on VH1 and MTV's Best Hard Rock Act countdowns, respectively. To me, their songs are some of the best rock anthems of all time. I also think it's awesome that despite the death of lead singer Bon Scott in 1980 (after the release of Highway to Hell), the group jumped right back into the game to release their best-selling album of all--Back in Black.




Fall Out Boy

I suppose a lot of chicks like me dig these whiny pop-punkers because either A) we want some guy to pine over us like they do in their songs or B) we like that their voices are high enough that we can sing along. And though I've lost a lot of the hormonal angst of my youth, I appreciate these guys as a voice that a new generation of tweens can identify with. Bonus points for their clever, entertaining music videos.
Call me a sap, but the simple, sentimental songs of the Carpenters get me every time. Karen Carpenter's vocals should serve as a reminder to all aspiring Whitneys and Christinas that sometimes you don't need to sing screechingly high or with an excess of exaggerated runs in order to sound beautiful. Some of the best love songs of all time, and one of my favorite holiday songs--"Merry Christmas Darling."

I now stand with my back towards you, faithful readers, ready for my flogging...