There's nothing more pathetic than an artist remaking his/her own hit song. That is an act that screams to the world, "I am a desperate has-been and I am completely out of ideas!"

This occurred to me when I heard that John Waite has released a new version of his 1984 hit "Missing You," entitled "Missing You 2007." It's a duet with Alison Krauss, and I love Alison, but there is never an excuse for a self-remake, so I must call John Waite on his shit.

Today I examine some of the more popular self-remakes in recent years and rate them on the trash scale from 1 garbage can (slightly pathetic) to five (extremely pathetic):




"Layla," Eric Clapton, 1992

The song that started the self-remake trend. It gets off easy for a couple of reasons: First, I don't think Clapton knew it was going to be released as a single when he sang it during his Unplugged performance, so it wasn't an obvious attempt to capitalize on past glory, unlike many of the others; and second, Clapton clearly was not out of ideas, as he proved with a string of hits the rest of the decade.




"Reason to Believe," Rod Stewart, 1993
Having witnessed Clapton's rebirth after Unplugged, Stewart decided to do the same thing by performing some of his '70s hits and releasing them as singles again, with "Reason to Believe" being the most notable. This was an early warning sign that Rod's career was beginning a downward spiral that would culminate with his recent covers albums.




"Don't Go Breaking My Heart," Elton John & RuPaul, 1993

This one isn't so bad, because it was done as a novelty rather than an attempt to recapture past success. The video is a must-see - Elton & Ru portray all sorts of famous couples throughout history, including Sonny & Cher, John Travolta & Olivia Newton-John, and the farmers in that American Gothic painting.

MySpace video link: Don't Go Breaking My Heart - Elton John & RuPaul




"Hey Now (Girls Just Wanna Have Fun)", Cyndi Lauper, 1994
One of the most laughable moments in pop music history. A long-forgotten Cyndi sings her biggest hit, reggae-style. I just felt sorry for her.

YouTube video link: Hey Now (Girls Just Wanna Have Fun) - Cyndi Lauper




"I Will Always Love You," Dolly Parton & Vince Gill, 1995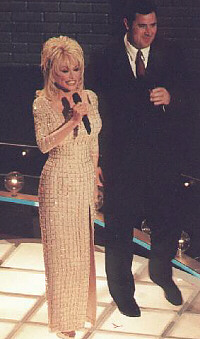 The gold standard in pathetic self-remakes. After Whitney Houston had a smash hit with a cover of Dolly's 1974 song, Dolly re-recorded the track with country music's biggest star at the time, Vince Gill. There was absolutely no reason for this, except for Parton to shamelessly capitalize on the success of Whitney's version. Mission accomplished, self-respect obliterated.

What's amazing is that the 1995 version was actually the THIRD time Dolly did the song; in addition to the original, she had recorded it again in 1982 (it hit #1 both times).




"Drift Away," Dobie Gray & Uncle Kracker, 2003

Dobie had been out of the spotlight for decades when this song came back. I don't begrudge him the chance to return and make a few dollars, but I hate that he had to do it with a no-talent hack like Uncle Kracker. It's impossible to listen to this remake, because every time Kracker sings, you think to yourself, why don't I just listen to the non-Kracker original instead?




"Missing You 2007," John Waite & Alison Krauss, 2007
Making this remake even less necessary is the fact that Brooks & Dunn remade the song just a few years ago, so it's already hit the country charts. Oh, and John Waite has NOT aged well. (Don't fret, John, when I do my list of the best power ballads of all-time, you've got another song that's going to top the list...)

YouTube video link: Missing You 2007 - John Waite & Alison Krauss




"Freak On a Leash," Korn & Amy Lee, 2007

Nobody's paid attention to Korn in years, so they decide to go the Unplugged route as well and perform their biggest hit with a singer people actually still care about (Evanescence's Amy Lee). Jonathan Davis tries to go Alanis on our ass with a serious, subdued vocal, but the original version with him screaming was better. He also leaves out the swear words. This from a once-fearsome metal band that used to scare parents? Lame. This would be a total disaster if not for the talented Lee.

Did I forget any?