This year I saw a personal record 120 bands, and it's time to rank them all.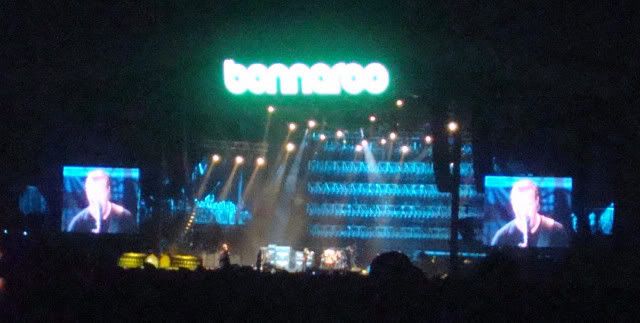 1 Metallica, Bonnaroo, June 13
I am not a metalhead by any means. The only Metallica CD I own is the black album. But there was no denying their might at Bonnaroo, where they ruled with a mix of their biggest hits and lesser-known favorites. The 1-2 punch of "One" and "Enter Sandman" was an amazing display of brute force to close the set, as was the encore of "Seek and Destroy." This was a great band at the very top of its game.



2 Black Keys, New American Music Union, August 8
The Akron blues-rock duo created an insane amount of noise and mayhem and blew everyone else out of the water at NAMU. They mellowed out briefly for a cover of Captain Beefheart's "I'm Glad," and then it was back to the face-melting solos. I'd seen the Black Keys once before and wasn't impressed, but this time they absolutely killed.



3 Sigur Ros, Bonnaroo, June 14
Sigur Ros played most of their new album, bringing out a mariachi band at one point on "Sé Lest." Seeing "Gobbledigook" live for the first time was great - the pulsing, tribal beat really brought the song to life. The quiet beauty of the band's music came out in the hills of Tennessee at 1:30 in the morning.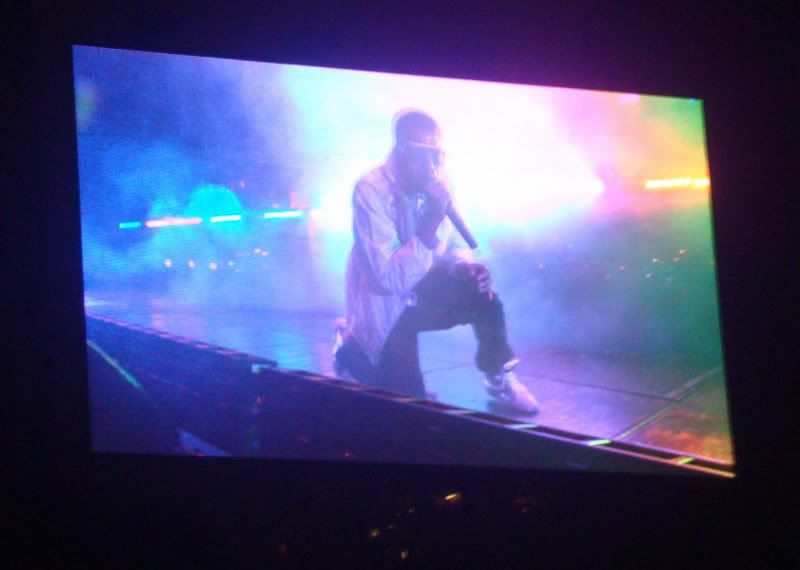 4 Kanye West, Lollapalooza, August 3
Kanye closed out Lolla in memorable fashion, performing with a live band and backup singers, and the electric guitars made the dark, moody "Can't Tell Me Nothing" frighteningly intense. "Put On" was one of the most mind-blowing moments of the festival, Kanye saluting his hometown of Chicago with fury and sincerity.



5 Gogol Bordello, Bonnaroo, June 14
Possibly the festival's most electrifying show. For 90 minutes, the zany gypsy punks bounced around the stage, beat the hell out of their drums, rocked the violin and accordion, and showed everybody a good time.



6 Avett Brothers, Point State Park, June 21
The Avett Brothers' high-energy bluegrass-punk was easily the highlight of this summer's Arts Fest. It's thrilling when I don't know any of a band's songs but they still leave me wanting more. (Needless to say, I've since caught up on their earlier work.) The fact that it was a free show just made it that much better.



7 Okkervil River, Lollapalooza, August 2
Okkervil's live show is phenomenal. The spontaneity between Will Sheff and his bandmates and the way they played off each other was great to witness. Sheff's passionate delivery took the band's best storytelling tracks like "Our Life is Not a Movie or Maybe" and "The President's Dead" to another level, proving (as if we didn't already know) that Okkervil River are one of the more exciting bands in rock these days.



8 New Pornographers, Carnegie Music Hall of Homestead, April 12
My first New Porns show was a treat thanks to Neko Case, whose wonderful voice was the star of the show on "These are the Fables" and "Stacked Crooked." AC Newman was also in fine form, leading an ass-kicking cover of ELO's "Don't Bring Me Down." "The Bleeding Heart Show" was a glorious show closer.

9 Vampire Weekend, Bonnaroo, June 12
"We're a jam band, we just play really short songs," said singer Ezra Koenig. "Oxford Comma," "A-Punk," "Cape Cod Kwassa Kwassa"... pretty much every song they played sounded terrific. "M79" rocked even without the strings. Best show of the first night of Bonnaroo.

10 !!!, Bonnaroo, June 13
Just like last year at Lollapalooza, !!! delivered an insane dance rock show. Singer Nic Offer did his hysterical gyrating and crazy-man dancing, and they closed on a high with one of their best, "Heart of Hearts."

11 Gogol Bordello, Lollapalooza, August 1
The only reason this show ranks lower than their Bonnaroo performance is that the Lolla set was 30 minutes shorter. It was just as intense, and the fans knew all the words to every song. A searing performance in the scorching heat.

12 Elvis Costello, Post-Gazette Pavilion, July 28
Elvis rocked hard and made the most out of his 45 minutes as the Police's opening act. He dueted with Sting on "Alison" and closed his set by indulging the crowd's unspoken wish to hear "(What's So Funny 'Bout) Peace, Love and Understanding."



13 The Go! Team, Lollapalooza, August 1
The colorful British ensemble perfectly replicated their lively dance-pop tracks from 2007's Proof of Youth like "Grip Like a Vice" and "The Wrath of Marcie." The Go! Team's singer Ninja gripped the crowd like an overzealous aerobics instructor, providing dance moves and encouraging audience participation.

14 Chromeo, Lollapalooza, August 3
These Canadians are the coolest dorks on the planet, as evidenced by the combination of pre-recorded electronic elements and live guitars and keys, with late '80s-style dance music and sleazy love songs that had fans at the MySpace stage dancing their asses off.

15 Okkervil River, Carnegie Music Hall of Homestead, April 12
Okkervil was supporting the New Porns here, and this was one of the better performances I've witnessed from an opening act. The band brought the seated crowd to its feet and managed to talk the audience into participating in a sing-along on the emotional closer, "Westfall."

16 !!!, Rex Theatre, July 22
Playing in Pittsburgh for the first time in several years, !!! provided a nonstop dance party from start to finish. Though the crowd was smaller than anticipated (maybe 300 people tops), the band still gave its all. Which means singer Nic Offer climbing onto the speakers, two (and sometimes three) drummers pounding away, and Shannon Funchess shaking her sizable booty all over the stage.



17 Solomon Burke, Bonnaroo, June 15
Seated on a custom-made throne, the 68-year-old Rock N Roll Hall of Famer belted out hits of his own and a medley of "Sittin' on the Dock of the Bay" and "Mustang Sally," dedicated to his fallen friends Otis Redding, Wilson Pickett, James Brown, and Bo Diddley.

18 Girl Talk, Lollapalooza, August 3
Girl Talk's parties keep getting wilder. He brought out giant balloons and toilet paper cannons to accompany his mash-ups. Being on a small, crowded side stage facilitated lots of sweating and dancing, and the ending was classic, as he surfed the crowd in an inflatable raft to Journey's "Faithfully."

19 Iron & Wine, Bonnaroo, June 14
Finally, a much-hyped artist lives up to his billing. Samuel Beam played much of his recent album The Shepherd's Dog, and impressed with beautiful, poignant words and melodies.

20 Rage Against the Machine, Lollapalooza, August 2
Rage owned Grant Park, rocking like it was 1996 and they were in their prime. Singer Zach de la Rocha was a commanding presence, and Tom Morello's shredding was a sight to behold. As might have been expected, de la Rocha got political, claiming, "It's our very government that is the terrorist organization we've been hearing about." But mostly, Rage let their music do the talking.



21 Fiery Furnaces, Bonnaroo, June 13
I don't know how they so effortlessly play their intricate, complex songs
22 Robert Plant & Alison Krauss, Bonnaroo, June 15
Started off very mellow but kicked into high gear as the set wore on
23 The Police, Post-Gazette Pavilion, July 28
A highly-percussive "Wrapped Around Your Finger" was the best moment
24 Flogging Molly, Lollapalooza, August 3
We loved when singer Dave King dedicated a song to himself
25 Amanda Palmer, Mr. Small's, November 29
Entertaining show, and her voice sounded as strong as I've ever heard it
26 John Vanderslice, Andy Warhol Museum, April 11
Offbeat, captivating show that moved into the lobby for an unplugged encore
27 The Hold Steady, Carnegie Music Hall of Homestead, Nov 13
America's bar band triumphed, even in a dry venue
28 St. Vincent, Andy Warhol Museum, February 25
Annie Clark's quirky songs sounded great, thanks in part to her terrific band



29 CSS, Lollapalooza, August 1
"Alala" and "Rat is Dead" offered the energy we were expecting
30 Radiohead, Lollapalooza, August 1
Still good because it's Radiohead, but they're capable of so much more
31 Holy Fuck, Lollapalooza, August 1
Slowly built up "Lovely Allen" into a massive climax
32 Iron & Wine, Lollapalooza, August 3
Exquisite guitar noodling at the end of "Upward Over the Mountain"
33 Cobra Starship, Warped Tour, July 29
Their sassy pop was a "Guilty Pleasure" on Warped Tour
34 Sharon Jones & the Dap Kings, Lollapalooza, August 2
She invited a young man onstage and taught him some dance moves
35 MGMT, Bonnaroo, June 12
Extended jam of "The Handshake" followed by "Electric Feel" was great
36 World/Inferno Friendship Society, Belvedere's, September 23
Jack Terricloth almost hit the ceiling while crowd surfing



37 Tokyo Police Club, Mr. Small's, April 10
Shortest encore in history – a spirited, 2-minute "Cheer it On"
38 Nicole Atkins & the Sea, Lollapalooza, August 3
Her strong voice was matched by her delightful personality
39 The National, Lollapalooza, August 3
Made sure to point out that "Mr. November" was not dedicated to McCain
40 Matt & Kim, William Pitt Union, November 21
Brooklyn indie pop superduo was fired up for the last show of their tour
41 Nine Inch Nails, Lollapalooza, August 3
"Discipline" and "March of the Pigs" were strong
42 Panic at the Disco, Tower City Amphitheater, May 16
I don't think the kids knew what to make of their new Beatles sound
43 Ghostland Observatory, Bonnaroo, June 14
Glow sticks, laser lights, and a 3 am dance-rock party
44 MSTRKRFT, Bonnaroo, June 13
One of the better DJ sets I've seen at a festival



45 Gnarls Barkley, New American Music Union, August 9
Cee-Lo was dancing up a storm until he got winded
46 Dave Matthews Band, Post-Gazette Pavilion, May 31
Way too many ballads, and not enough solos from Boyd or Tim Reynolds
47 Kanye West, Bonnaroo, June 14
It was amazing to watch the sun rise at 5 am during his show
48 Chris Rock, Bonnaroo, June 13
Tore up the presidential candidates, especially Hillary
49 Raconteurs, New American Music Union, August 9
All four members brought their own talents, but Jack White dominated
50 MIA, Bonnaroo, June 13
Most crowded festival tent ever; I wish I could've seen the stage
51 Tegan & Sara, Bonnaroo, June 13
Played a nice version of "Nineteen" dedicated to Cyndi Lauper
52 Okkervil River, Mr. Small's, October 9
Didn't quite measure up to the other two times I saw them in '08



53 Shwayze, Warped Tour, July 29
Hilariously stupid rhymes about weed and women
54 Explosions in the Sky, Lollapalooza, August 2
Instrumentals don't typically play well at festivals, but they persevered
55 Sharon Jones & the Dap Kings, Bonnaroo, June 14
Sassy old school soul, Sharon will always show you a good time
56 Nicole Atkins & the Sea, Bonnaroo, June 12
Cover of Patti Smith's "Pissin' in a River" was powerful
57 Say Anything, Warped Tour, July 29
Emo's poet laureate, Max Bemis, delivered on "Shiksa"
58 Bob Schneider, Diesel, May 10
One of the most under-appreciated singer-songwriters around
59 Best Fwends, William Pitt Union, November 21
There was a lot of screaming, and silly costumes, and somehow it rocked
60 Against Me!, Warped Tour, July 29
Solid performance, but they feel so 2007



61 DeVotchKa, Diesel, May 21
"How it Ends" was majestic, Nick Urata's vocals soaring over exquisite strings
62 Basia Bulat, Diesel, May 21
Reminds me of Regina Spektor with an autoharp, or Feist with a smile on her face
63 The Roots, New American Music Union, August 8
"The Seed 2.0" was a letdown, played at warp speed and without any hip hop elements
64 Motion City Soundtrack, Tower City Amphitheater, May 16
"This is for Real" and "It Had to be You" are quality
65 Mindless Self Indulgence, Mr. Small's, April 30
I can't justify why I like this band on an intellectual level; I just do
66 Grizzly Bear, Lollapalooza, August 1
Half the songs were engaging, half were uninteresting
67 Pennywise, Warped Tour, July 29
I didn't realize they were named after a monster in a Stephen King novel
68 White Rabbits, Diesel, January 16
Not as energetic as usual, but most of the band members were sick
69 The Whigs, Lollapalooza, August 3
Their powerful guitar riffs and catchy melodies packed a real punch
70 Eli "Paperboy" Reed & The True Loves, Lollapalooza, August 3
Nifty '60s R&B sound with a big band
71 Gnarls Barkley, Lollapalooza, August 3
Unfortunately didn't get to watch much of their set



72 Spoon, New American Music Union, August 9
Hard to dislike, but there's nothing exceptional about them either
73 Mike Doughty, Mr. Small's, April 13
Mike was pretty good even though he yelled at some girl and called her a cunt
74 Drive-By Truckers, Carnegie Music Hall of Homestead, November 13
If they'd stopped after 30 minutes it would've been a much better show
75 The Duke Spirit, New American Music Union, August 9
Sexy garage rock fronted by harmonica-playing vixen Liela Moss
76 Steel Train, Bonnaroo, June 13
Hand-clapping rock and power pop, and a decent cover of "1979"
77 Vermillion Lies, Mr. Small's, November 29
I wish I'd seen more of them… "Global Warming" was hilarious
78 Motion City Soundtrack, Warped Tour, July 29
It's too hard to hear the synths when they play live
79 Jack Johnson, Bonnaroo, June 14
Decent music, but I wonder how in the world he got so popular
80 The Academy Is…, Warped Tour, July 29
Didn't hit their stride until the end
81 Innerpartysystem, Lollapalooza, August 2
Their emo-electro was the early highlight on the second day of Lolla



82 Does it Offend You, Yeah?, Lollapalooza, August 2
At least the vocoder-heavy "Doomed Now" lived up to its potential
83 Ladytron, Bonnaroo, June 15
If you've heard the first 30 seconds of a Ladytron song, you've heard the entire thing
84 Cat Power, Bonnaroo, June 14
She turned the jazzy "Lived in Bars" into a strange up-tempo freakout
85 B.B. King, Bonnaroo, June 14
Great to see the 82-year-old legend while he can still rock
86 Dierks Bentley, Lollapalooza, August 2
The only country act I saw this year
87 Phantom Planet, Tower City Amphitheater, May 16
Gotta love that O.C. theme song, if nothing else
88 Abigail Washburn & the Sparrow Quartet, Bonnaroo, June 14
Bela Fleck is the undisputed banjo king
89 Kid Sister, Lollapalooza, August 3
She capably brought the hip hop but came off like a lesser M.I.A.
90 Icy Demons, Rex Theatre, July 22
Brought the funk with tracks like "Crittin' Down to Baba's"
91 Foreign Born, Andy Warhol Museum, February 25
Part spacey, part jam band, part sensitive acoustic folk rock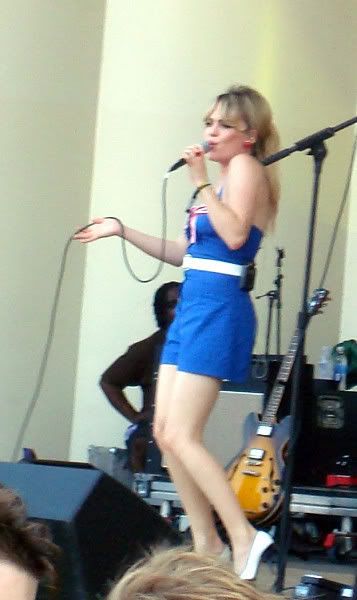 92 Duffy, Lollapalooza, August 1
You call that soul? She sounds like a cross between Paris Hilton and Porky Pig
93 Wednesday 13, Rex Theatre, July 16
Interesting goth metal show
94 Jakob Dylan & the Gold Mountain Rebels, Bonnaroo, June 15
Played just one Wallflowers track, a slowed-down "3 Marlenas"
95 Willie Nelson, Bonnaroo, June 13
Willie's a living legend, but at this point he's mailing it in
96 Gym Class Heroes, Warped Tour, July 29
Can this band ever produce a hit that doesn't have Patrick Stump singing the chorus?
97 Katy Perry, Warped Tour, July 29
Not much substance beyond "I Kissed a Girl"
98 Brazilian Girls, Lollapalooza, August 3
Fun to sing along to "pussy pussy pussy marijuana"



99 MGMT, Lollapalooza, August 2
Bored everyone silly with a shockingly joyless performance – biggest letdown of Lolla
100 Mayday Parade, Warped Tour, July 29
I like their studio stuff but I don't even remember seeing them at Warped
101 Pfunkt, William Pitt Union, November 21
Solo rapper at least gets points for enthusiasm and energy
102 NASA, New American Music Union, August 8
DJ duo spliced together songs, but not as well as Gregg Gillis
103 What Made Milwaukee Famous, Lollapalooza, August 3
Nothing set them apart from countless other indie rock acts
104 The Builders & the Butchers, Mr. Small's, November 29
Easily the least-interesting opener Amanda Palmer has ever had
105 Mates of State, Lollapalooza, August 1
I didn't have the patience for the easygoing, relaxed pop Mates of State were serving up
106 Broken Social Scene, Bonnaroo, June 15
Strip me of blogger cred if you want; I just can't get into this band
107 The Birthday Massacre, Mr. Small's, April 30
At least they earn eye candy points for being attractive
108 State Radio, Post-Gazette Pavilion, May 31
Wasn't terribly impressed by Dave Matthews' opening act



109 Aimee Mann, Bonnaroo, June 15
Very disappointing. She's not bringing a lot to the table when it comes to live performing
110 The Walkmen, Diesel, January 16
I don't get the acclaim for these guys; I find them boring
111 Stephaniesid, Bonnaroo, June 12
A mediocre late-night show on a smaller stage
112 The Hush Sound, Tower City Amphitheater, May 16
I've seen them twice now, and I've had my fill, thank you very much
113 Crooked Fingers, Mr. Small's, November 29
I'm sorry, this band does nothing for me
114 Bob Dylan, New American Music Union, August 9
He doesn't even sing anymore; he just talks the lyrics, in completely unintelligible fashion
115 Umphrey's McGee, Bonnaroo, June 13
I don't know how anyone can like this shit unless they're high (but maybe that's the point)
116 The Panderers, Mr. Small's, April 12
First band Mike Doughty signed to his label… oops!
117 Dark Star Orchestra, Bonnaroo, June 13
Opened with the least-inspiring cover of "Stir it Up" in history
118 Hollowboy, Mr. Small's, April 20
Very lame openers for Mindless Self Indulgence
119 Tiny Masters of Today, New American Music Union, August 8
Teenage brother-sister punk duo has great potential - I'll leave it at that
120 Spanish Prisoners, Andy Warhol Museum, April 11
John Vanderslice's openers were awful. They offered rambling, painfully boring banter that never led anywhere. Their songs were mostly quiet, which made their laughable lyrics stand out even more. The singer doesn't have a singer's voice; it's too weak and colorless. The worst song was the one about living in NYC, which they wrote right after moving there, which made them come across as the biggest posers ever. 'Hey, let's move to Brooklyn and write a song about living there, so we can act like we're actually from there and pretend we're part of some scene…'

Check out last year's list:
Ranking every band I saw live in 2007 from 1-101