Some random thoughts, with one week until Bonnaroo...

-I'm not as anti-Jack Johnson as I once was. Earlier this summer, when it was announced that he would be headlining pretty much every summer festival, I joined in the nationwide backlash. But his single "If I Had Eyes" has grown on me, and I'm kind of digging his mellow, early Dave Matthews kinda vibe. That said, I'll be skipping most of his set to catch Kanye.

-I'm really excited about the opportunity to see B.B. King, Willie Nelson and Solomon Burke. Bonnaroo always invites these kind of acts, and it adds a lot to the festival. They're people I'd never normally have the opportunity to check out, and now I'll always be able to say I saw these are legendary acts.

-I'm bummed about the MGMT vs. Nicole Atkins conflict, but both are also playing Lollapalooza, so I'll have another chance to see them.

-I can't wait to see Ghostland Observatory play until 4 a.m. How often do you get to see bands play at 4 in the morning?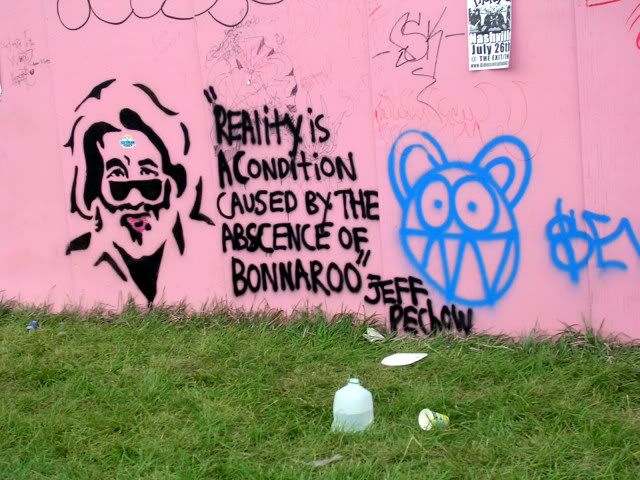 Bands I'm most looking forward to:
1 Sigur Ros
2 Ghostland Observatory
3 MGMT
4 Chris Rock
5 Robert Plant & Alison Krauss
6 Tegan & Sara
7 Gogol Bordello
8 Kanye West
9 Nicole Atkins & the Sea
10 Fiery Furnaces




Downloads:
MP3: Battles - Ddiamondd (from Mirrored)
MP3: Fiery Furnaces - My Egyptian Grammar (from Widow City)
MP3: Ghostland Observatory - Heavy Heart (from Robotique Majestique)
MP3: !!! - Infinifold (from Myth Takes)
MP3: Grand Ole Party - Nasty Habits (from Humanimals)
MP3: Gogol Bordello - Troubled Friends (live)
MP3: Iron & Wine - Boy With a Coin (from The Shepherd's Dog)
MP3: MGMT - The Handshake (from Oracular Spectacular)
MP3: Rilo Kiley - The Execution of All Things (from The Execution of All Things)
MP3: MIA - Hit That (unreleased)
MP3: Sharon Jones & the Dap Kings - 100 days, 100 Nights (from 100 Days, 100 Nights)
MP3: Tegan & Sara - Back in Your Head (from The Con)
MP3: Willie Nelson - On the Road Again (from Honeysuckle Rose)
MP3: Vampire Weekend - A-Punk (from Vampire Weekend)
MP3: Cat Power - Metal Heart (from Jukebox)
MP3: Mason Jennings - Fighter Girl (from In the Ever)
MP3: Two Gallants - The Hand That Held Me Down (from Two Gallants)
MP3: Rogue Wave - Every Moment (from Out of the Shadow)
MP3: Sigur Ros - Gobbledigook (from Með suð í eyrum við spilum endalaust)