A journal of all the acts I witnessed during Lollapalooza... all photos & video clips were taken by me with my crappy cam...

11:00
I'm standing outside the gates and they still haven't let anybody in. Is there a bomb threat or something? The first band starts at 11:15, ferchrissakes! I showed up early to make sure I got in with plenty of time to spare, and I end up having to wait anyway. Standing in the blazing sun for 45 minutes while I waited did not put me in a good mood to kick things off.

11:30 The Switches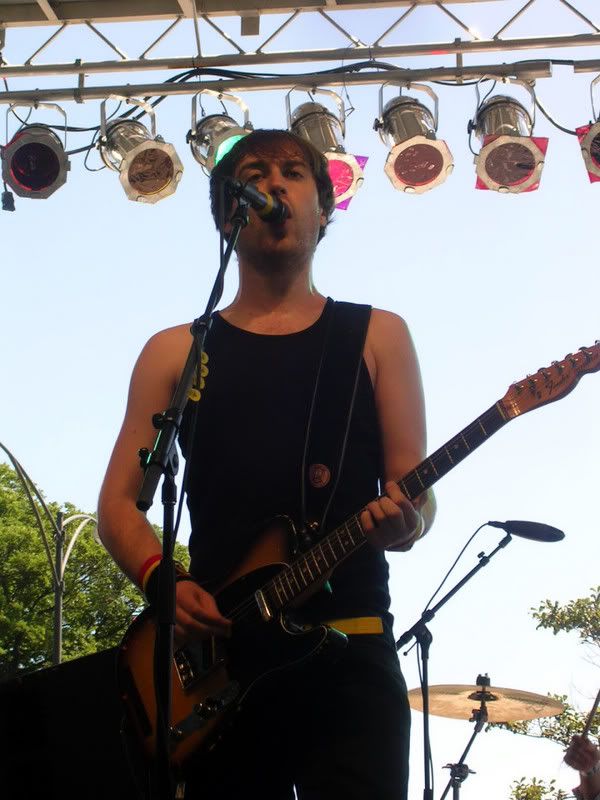 I made it inside and thankfully, this small stage is in the shade and there's even a breeze! I enjoyed this U.K. band's short set, it packed a lot of punch and included the one song of theirs I actually knew, "Snakes and Ladders."

11:50 The Fratellis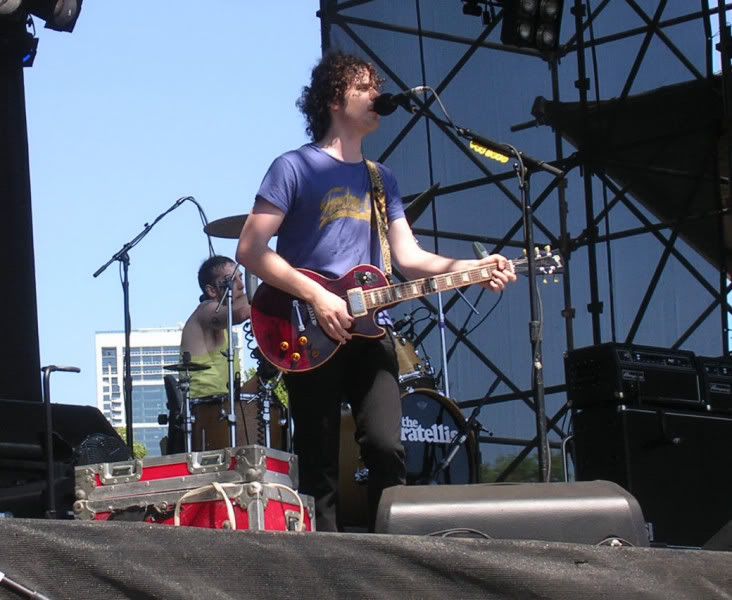 This band has gotten a lot of hype on the blogs this year, but I didn't see anything special. Unlike the Switches, who knew they had a limited amount of time and tore through their set, the Fratellis were way too deliberate and weren't all that interesting. It's hard to judge sometimes when you only catch half of a set, but that was my impression.

12:15 Illinois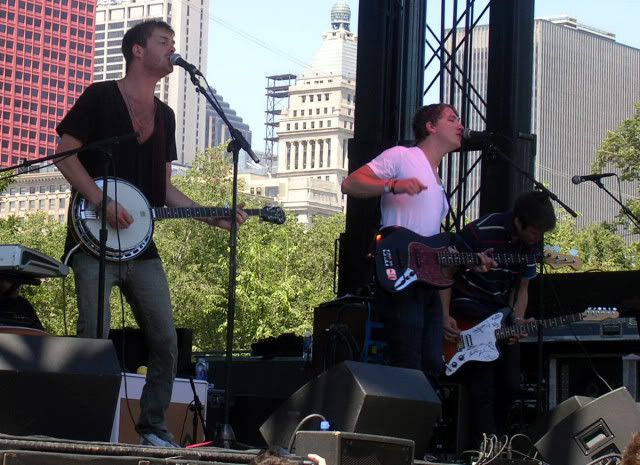 I just caught the end of this band's set and I wish I'd seen more – the four songs I witnessed were loud, full band jams, with a banjo prominently featured. Good musicians, I'll have to check them out again.

12:30 Ghostland Observatory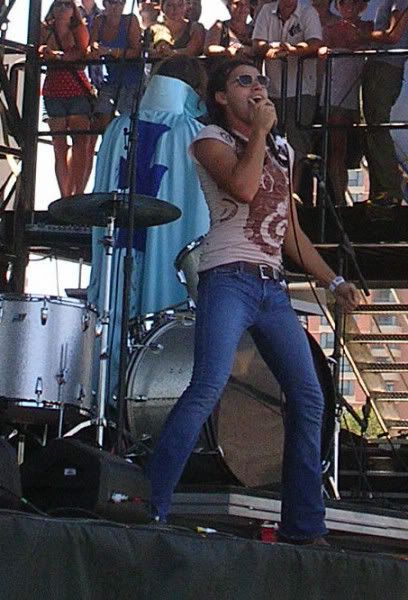 The first band of the festival that caught me totally by surprise. I had no expectations, but this duo blew me away with their White Stripes-meets-Daft Punk blend of hard rock and electronica, combined with a pigtailed singer who snake dances around like Gwen Stefani and a cape-wearing drummer/keyboardist. I had only expected to stay for 15 minutes, but changed my mind because I was enthralled with the singer's singing and dancing – it was impossible to take my eyes off her. It was only after I got home and did some research on the band that I found out the singer IS A DUDE. I'm in shock – I've never seen a guy dance like that, and oddly, I feel letdown. For some reason, I think if the singer was a girl, they would be more unique. But their set was still undeniably outstanding.

1:15 Chin Up Chin Up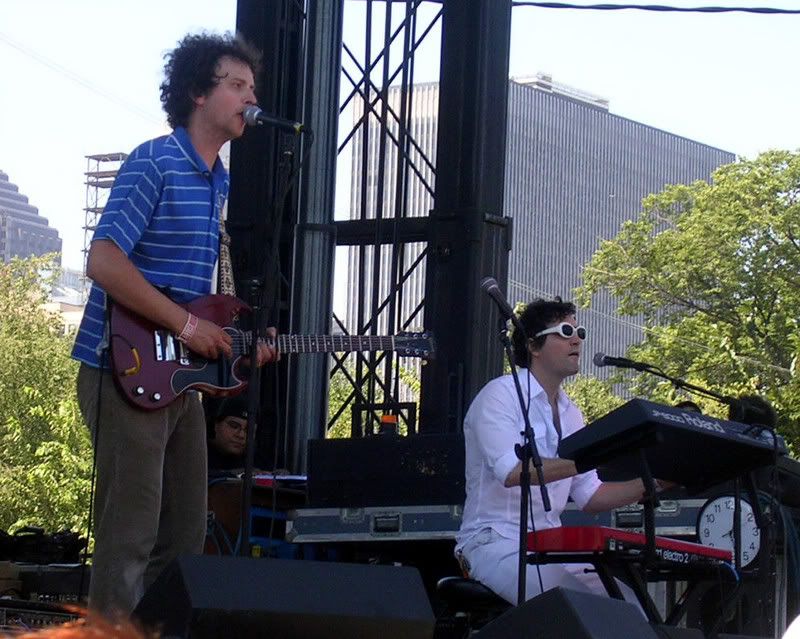 After buying a $5 lemonade (the only purchase I regretted all weekend), I took in a couple of this band's songs. Nothing to say, really – I don't even remember them. Sorry guys.

1:40 Ted Leo & the Pharmacists


Many in the hipster crowd like Ted Leo, so I enjoyed my first chance to see him, and he was pretty good. Very plain, straightforward rock n roll like Bruce Springsteen, but engaging songs. I took note of a song where the chorus was "only you'd know what he's done," so that I could look it up later and mention it in my blog, but a lyrics search for that line comes up empty, so I have no idea what song it was.

2:30 Jack's Mannequin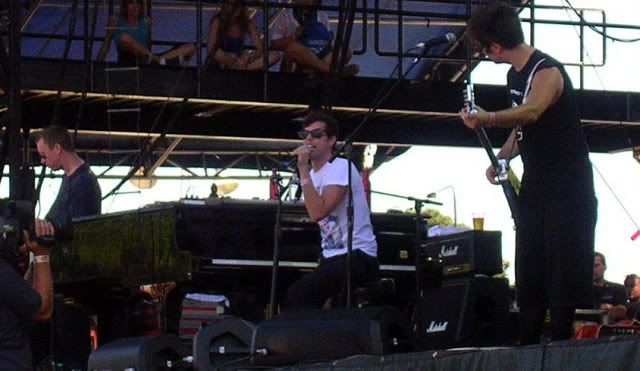 The blurb about this band in the program made it sound like they were kind of emo, so I wanted to catch a couple minutes of them before I headed to the opposite side of the park to see the Polyphonic Spree. Imagine The Fray, if the singer had a whiny emo voice, and you have this band. I left and went to grab a tasty vegan cookie dough waffle cone.

3:00 Polyphonic Spree


It's cool when a band is as interesting visually as they are musically, and the Spree is incredible to witness – 24 people (including a midget) in matching outfits, playing instruments like the harp, violin, French horn, and anything else you can think of. I should've had the foresight to plan to see their entire set, instead of just the last 30 minutes, but what I saw was thrilling, including the first big moment of the festival – after a costume change that saw them go from military outfits to their trademark white robes, they played a cover of Nirvana's "Lithium" that made the crowd go crazy.

Video clip: "Lithium"


3:40 Electric Six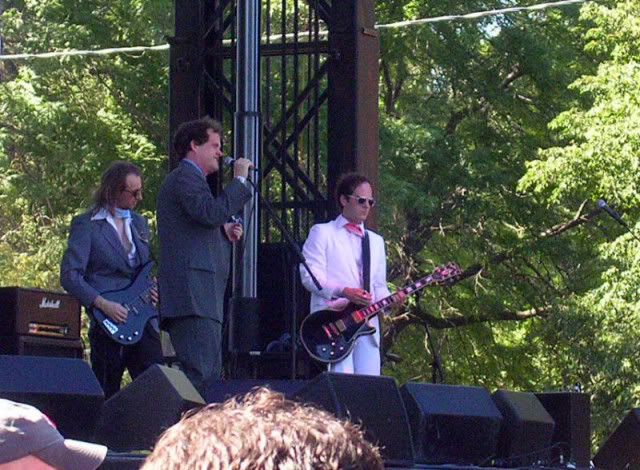 Didn't get to stay long but during the 15 minutes I was there they performed their big hit "Gay Bar." "Let's start a war/Start a nuclear war/At the gay bar/Gay bar/Gay bar" – I love that lyric, and the way he delivers it.

4:00 Against Me!
I arrived just before they played their current hit "White People for Peace." They were loud and rocking just as I expected.

Video clip: "White People for Peace"


4:30 M.I.A.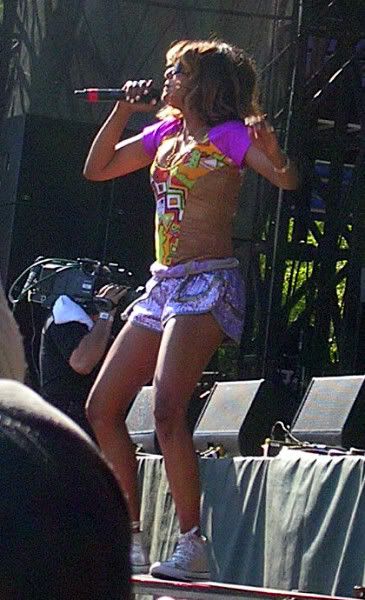 I was psyched for this show and made my way right down front, only to be disappointed. Her show was boring… it was just her, another dancer, and a DJ. Her songs are great on record, but there's not much she can do with them live.

5:20 The Rapture


Another performance that I could only drop by briefly, on my way somewhere else. The few songs I saw were decent. I would've stayed longer but I saw them in January, so I decided to check out some other bands I hadn't seen before instead...

5:40 Silversun Pickups


The male singer has a really whiny voice, one of those voices that you really have to hear several times before you get used to it, like Bob Dylan and Joanna Newsom. I liked the little bit I heard, and they played their excellent single "Lazy Eye" at the end.

6:10 Blonde Redhead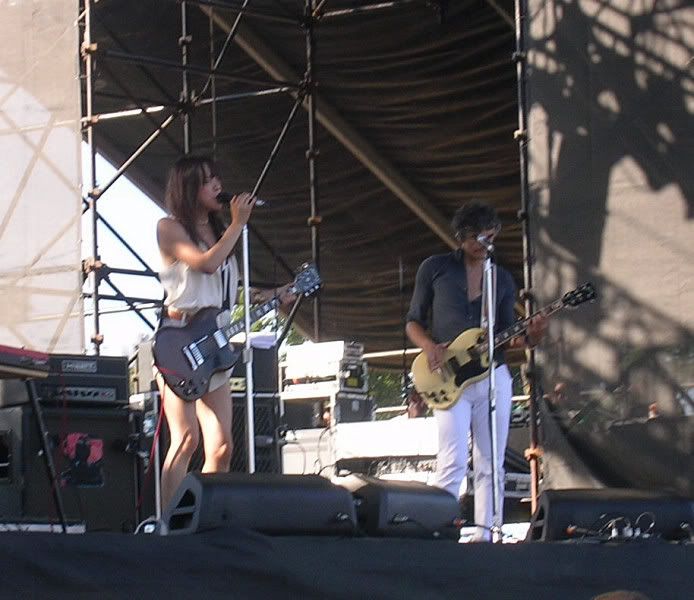 They get the award for most mismatched group - a young Asian singer with two old, graying, Latin-looking musicians. I like the song "23" but aside from that I haven't figured out how this band is creating a buzz.

6:40 Matt Roan
I hadn't intended to see this, but I arrived early for Mickey Avalon and this guy was DJing. I guess he does kind of a Girl Talk thing, playing a verse or two of a song and then mixing it with another. It was cool but I was preoccupied with waiting for Mickey…

7:00 Mickey Avalon


I'm sure this show gave me permanent hearing damage because I was about 4 feet in front of the giant speakers. My ears were still ringing the next morning. His live performance was good, not much different from the CD. His cohorts Andre Legacy and Dirt Nasty came along, leading to a show-capping performance of the comically offensive "My Dick."

Video clip: "My Dick"


8:15 LCD Soundsystem
I used to like this band until I saw them not long ago on Letterman. I thought they were one of those mysterious European techno acts, but it turns out it's just an ugly, portly fellow from Brooklyn. Should that make a difference? Probably not, but it does. The cool factor went straight to nothing when I saw that. I do like some of their songs, but the 15 minutes I saw didn't do much for me. I thought they might close with "Daft Punk is Playing At My House" – that would've made for a seamless transition to the next mainstage band – but apparently they played it early in the set.

8:40 Ben Harper & the Innocent Criminals


I gave him a chance and stayed for about 20 minutes. It was ok but the songs were too preachy for me. Why must every song be about saving the world?

9:10 Daft Punk


I arrived a half hour into Daft Punk's show and was greeted with the robot-outfit-wearing DJs inside a massive pyramid, with a crazy light and video show. Not long after I got there, as I made my way to the front, they played "One More Time." I was really amazed how the crowd was going crazy. Every single person was jumping up and down. People in Pittsburgh don't dance like this. It's really amazing to see how much fun a crowd can have when everyone lets loose. There was a quite a wow factor involved in seeing this band that almost never performs in the U.S. This was the best performance of the entire weekend in the eyes of many people including myself.

Video clip: "One More Time"


Bands seen today: 19

Best of today:
1 Daft Punk
2 Ghostland Observatory
3 Polyphonic Spree