The final installment of my journal from Lollapalooza, with still more photos and videos taken with my crappy camera…
White Rabbits


Upon walking in I was stunned that there were huge mud puddles all over the place from last night's modest rain. It seemed that Lolla was completely unprepared for even the slightest bit of precipitation. As the day went on, things got better - puddles were filled in with sand and covered up with cardboard sheets. The fields were still a bit muddy but not too bad.

The first band I took in was White Rabbits, and I enjoyed them a great deal – catchy rock songs, and 2 drummers, which is an oddity I always enjoy. "The Plot," in particular, is a song worth tracking down.
1900's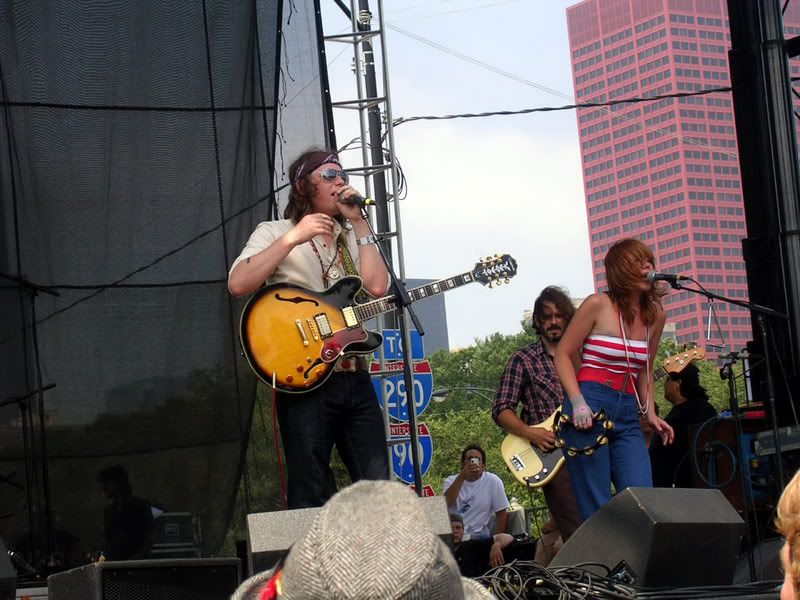 I saw almost 50 bands this weekend, and this is the one I remember the least. My notes tell me they had at least 3 girls in the band, including keyboard and violin players. That's all I can say about them…
The Cribs
Generic indie rock that didn't grab my attention. Man, this day started off slow.
Rodrigo y Gabriela


A Mexican instrumental acoustic guitar duo. Yeah, sounds sucky, but it was incredible. This girl's fingers are impossibly fast. For the first few songs, I was craning my neck to search around for a drummer, because I kept hearing drums but I couldn't see anyone playing them. I eventually realized it was Gabriela, slapping her guitar in between playing the notes. I wish there were some better video clips of this performance on YouTube, because the world needs to see how phenomenal this duo is.
Smoosh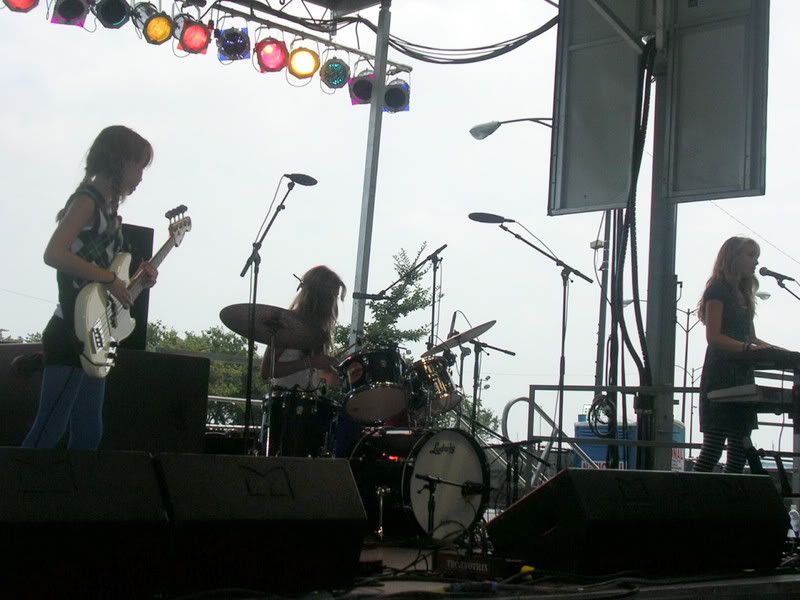 My favorite preteen girl group! And I was excited to hear that their younger sister, age 8, has now been added to the group as a bass player! Unfortunately I couldn't stay long, and the songs they played in my presence weren't all that impressive. Oh well.
Amy Winehouse


There was no energy or enthusiasm coming from the stage during her performance. One reviewer said she seemed "disinterested," which was true, but that's her style. She is just very distant on stage, her singing very clinical. No crowd interaction whatsoever, except to shyly say "Thank you" after a couple (not all) of the songs. It got better towards the end as she played the hits, including, of course, "Rehab," and the show closer, my favorite, "Valerie."
Video clip: "Valerie"

Paolo Nutini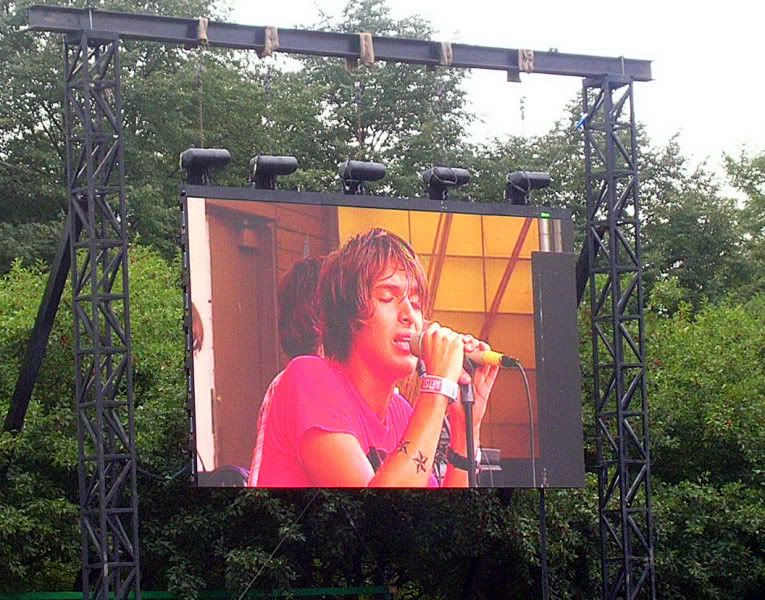 I like this guy's record, and I wanted to like his performance. I guess it was ok, but he needs to learn to speak better English. He sounds better on the record than he does live (thank you, studio wizardry.) On stage, he still sings with a heavy accent that is so bad it detracts from his singing. I did enjoy "Jenny Don't Be Hasty" a lot.
Iggy Pop and the Stooges


This is one everyone is still talking about, but I left before it got good. I witnessed the one Stooges song I knew, "I Wanna Be Your Dog," but I missed the part later where Iggy invited people to rush the stage, to the horror of security personnel. This may very well have been one of the weekend's better shows, but I didn't see enough to deem it so.

Peter Bjorn and John


Everyone's favorite Swedish pop trio had problems just 10 minutes in when the sound blew out, before they even had a chance to play "Young Folks." I was pissed but took advantage of the break to see another band. I returned 30 minutes later when power was restored, and got to see "Young Folks." This band seemed to offer little substance beyond that one song.
!!!
I arrived at the MySpace stage to see !!! singer Nic Offer gyrating around like an escaped mental patient. His dancing was worse than mine, but it was so uncool that it was cool. This band had the crowd going ballistic. The vocals sounded just as bad as they do on CD, especially on "Me & Giuliani (Down By the Schoolyard)," but no one cared. This was total energy. If it hadn't been for Daft Punk, this might've been the best show of the festival.
Video clip: Unknown song (this is one of my best videos ever, showing the singer, video screen, crowd, and skyline… it's too bad YouTube quality sucks…)
My Morning Jacket


When the schedule was originally released, I had planned to see Modest Mouse in this time slot. Then, I thought, since MMJ is such a popular live band, maybe I'll at least see a small piece of their show, and then finish with Modest Mouse. Then, I heard that MMJ was performing with the Chicago Youth Symphony Orchestra, and realizing that history might be made, I decided to spend most of this time slot here. Finally, when it actually got to be on Sunday night, I was too tired to walk to the other end of the park, so I skipped Modest Mouse entirely and stay here. Turns out, this performance was nothing special. But at least I got a good spot for TV on the Radio.
TV On the Radio
I was looking forward to this all weekend. They did a nice job of turning their textured, experimental sounds into a blistering live show. "I Was a Lover" in particular caught me off guard, because without the freaky keyboard intro, I didn't realize they were playing it at first. "Wolf Like Me" rocked hard as always. When their criminally short set concluded, fans chanted for one more song, which never works in a festival setting where all the time slots are pre-determined down to the minute, but I thought it might work here, because the band went on 5 minutes late due to MMJ overplaying, so they were due some time, and because Pearl Jam, the next band, was the final band of the night, so it wouldn't hurt anyone to allow TVOtR to do a quick encore, right? But it didn't happen. And once fans realized it wasn't going to happen, the chant hilariously went from "One more song!" to "Fuck Pearl Jam!"
Video clip: "Wolf Like Me"


Pearl Jam came on 10 minutes late (leaving plenty of time for that nonexistent TVOtR encore), but I wasn't paying much attention for the first hour, because I was hanging around the MySpace stage hoping TV On the Radio might come out and meet fans. Two members eventually did (the bearded guitarist and the singer), and I got autographs. It was cool hearing them chat with fans ("How come you're not over at Pearl Jam? You guys are young – is Pearl Jam classic rock to you?") I haven't met any singers in a while, so this was a great capper to my weekend.
Pearl Jam



An hour late, I turned my attention to Pearl Jam. I figured it was no big deal because they'd probably play for 3 hours anyway – this was the first performance in Lolla history that did not have a specified end time, and fans speculated PJ might offer a legendary show that went past . Imagine my shock when, after a raucous "Alive," the band went offstage at precisely Seriously. They came back out for another 40 minutes, but the fact they ended at 10 stunned pretty much everyone.


It was good while it lasted – "Even Flow" was particularly impressive, with long guitar solos and fireworks. "Worldwide Suicide" and "Daughter" were additional highlights in a hits-heavy set. Ben Harper came out for an anti-war acoustic ballad "No More War," and then Harper played with the band on "Rockin' in the Free World," which ended up being a stunning closer, as Eddie Vedder invited the fans on stage – those in the VIP seats, anyway (that explains why Vedder ended up on Dennis Rodman's shoulders). The energy and significance of the moment helped make that song one of the best performances I've ever witnessed. As a whole, I thought the set was good but not great. I was happy to have some diehard PJ fans confirm this later – they said it was average by Pearl Jam standards, which is still very good.
Bands seen today: 13
Best of today:
1. !!!
2. Rodrigo y Gabriela
3. TV On the Radio
4. Pearl Jam
Bands seen this weekend: 47 (including 40 I had never seen before)

Best performances of the festival:
1. Daft Punk
2. !!!
3. Ghostland Observatory
4. Rodrigo y Gabriela
5. The Hold Steady
6. TV On the Radio
7. Pearl Jam
8. Polyphonic Spree
9. Patti Smith
10. Yeah Yeah Yeahs
11. High Class Elite
12. White Rabbits
13. Mickey Avalon
14. Tokyo Police Club
15. Paolo Nutini

Bands I most regret missing:
1. Spoon
2. Modest Mouse
3. Regina Spektor