My iTunes is arranged alphabetically, and I love when this results in crazy transitions between disparate genres. Here are some of the best transitions on my iTunes:


>

Velvet Underground "Sweet Jane" > Venga Boys "We Like to Party!"
Classic grime rock from Andy Warhol's band of freaks, transitioning into cartoonish Eurodance pop. This is one of two equally ridiculous transitions for Lou Reed on my iTunes - the other is when his "Walk on the Wild Side" plays right after Los Del Rio's "Macarena."

USA For Africa "We are the World" > Usher & Ludacris "Yeah!"
Which song did more to make the world a better place? You decide.

Cranberries "Salvation" > Culture Club "Church of the Poison Mind"
If salvation is possible at the church of the poison mind, they should just combine the two songs.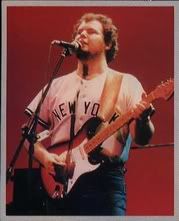 >

Christopher Cross "Sailing" > Chumbawamba "Tubthumping"
The first is the most elitist pop song in history, the second is just plain stupid. And I love them both.

Peter Gabriel "Solsbury Hill" > Phil Collins "I Wish It Would Rain"
Ex-bandmates reunite. Phil gets the edge because "Wish" opens with an emotional guitar solo. I admire that. How many songs open with a guitar solo? "Sweet Child Of Mine," that's the only other one that immediately comes to mind.

Silk "Freak Me" > Silverchair "Freak"
A brilliant transition because the song titles are almost the same, even if the lyrical content is totally different. "Let me lick you up and down" vs. "Body and soul, I'm a freak."

Peabo Bryson & Roberta Flack "Tonight I Celebrate My Love" > Peaches "Stick it to The Pimp"
A sweet, sappy love ballad, followed by a trashy electroclash song. The same thing happens in reverse when I go from Lords of Acid to Loretta Lynn.


>

2Pac "Changes > AFI "Miss Murder"
Dude who was murdered, and song about murder.