The initial 2008 lineup for Bonnaroo has been announced. I went two years ago and had a blast; I skipped it last year in favor of Lollapalooza. This year's lineup is a mixed bag but it's certainly better than Coachella (maybe not as deep, but the headliners are far superior.)

See the full lineup here or the poster here.

BANDS I'M SUPER EXCITED TO SEE:

Sigur Ros. One of my all-time favorite live bands, these guys are simply amazing. Their soft, beautiful sounds might get overwhelmed in a festival setting, but who cares. It's been 4 years since I've seen them; that's too long.

Metallica. They're one of those legendary bands I have to see at some point in my life, like Pearl Jam at Lollapalooza last year.

Kanye West. You can't deny Kanye's genius anymore. His arrogance is totally justified.

Robert Plant & Alison Krauss. My first chance to see Alison! And with the singer of Led Zeppelin. (I would rather have seen Zep play the festival, but oh well.)

B.B. King. Another legend I have to see before I die (or, more likely, he dies.)

Willie Nelson. See B.B. King.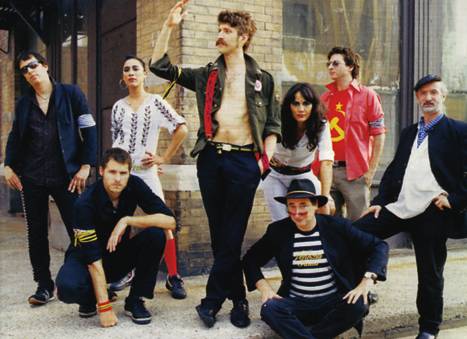 Gogol Bordello. I've seen a bunch of other gypsy bands recently (DeVotchKa, Luminescent Orchestrii), but these guys are supposedly the best. They performed with Madonna at Live 8, for crying out loud.

Ghostland Observatory. Yeah. I've written enough about them, they kick ass live.

BANDS I'M KINDA EXCITED TO SEE:
Iron & Wine
Broken Social Scene
Vampire Weekend - now I don't feel bad about missing their show here next week
Fiery Furnaces
!!! - amazing live performers, but I've already seen them
MGMT
Solomon Burke
Nicole Atkins - the first artist I interviewed, continuing her climb toward mainstream success
Ladytron
Rilo Kiley
Jakob Dylan - this could be an interesting show
Tegan & Sara
Janeane Garofalo - but it's impossible to get into the comedy shows at Bonnaroo
The Allman Brothers Band

BANDS I WISH WEREN'T PLAYING:

Pearl Jam. I can't believe Bonnaroo chose the same act who just headlined Lollapalooza last year. They put on a good show, but been there, done that. I'd much rather have had Led Zeppelin. Or even just a band I haven't seen yet, like Arcade Fire or the Flaming Lips.

MIA. Horrible live performer.

The Raconteurs. I DESPISE this band.

Ben Folds. I've seen him several times already, including at Bonnaroo. He's not bringing anything new to the table.

My Morning Jacket. At least all the hippies will be at this show, so whoever I go see in this time slot will be less crowded.

THE VERDICT:
Tickets are $210, plus surcharges and shipping which are going to push the total to around $238 each, if I buy two. That's steep, but it's less than I'd pay to see all of these acts individually.

I'd love to see any of the following acts added to the bill: Architecture in Helsinki, CSS, Amanda Palmer, Band of Horses, The Go! Team, Digitalism, Patrick Wolf.

But even with the current lineup, I'm leaning towards going.